« Back to News
Tom IbnurTransfer His Dance Skills to Devdan Dancers
Thursday, 6 March 2014
The very first Bali and Beyond Travel Fair 2014 (BBTF) was held on 10th – 14thJune, 2014. During the most comprehensive travel fair in Asia, the committee of the event appointed Bali Nusa Dua Theatre (BNDT), to introduce the buyers to Indonesia's culture through its well-known Devdan Show. Around 300 guests from all over the world watched the cultural extravaganza on 12th June.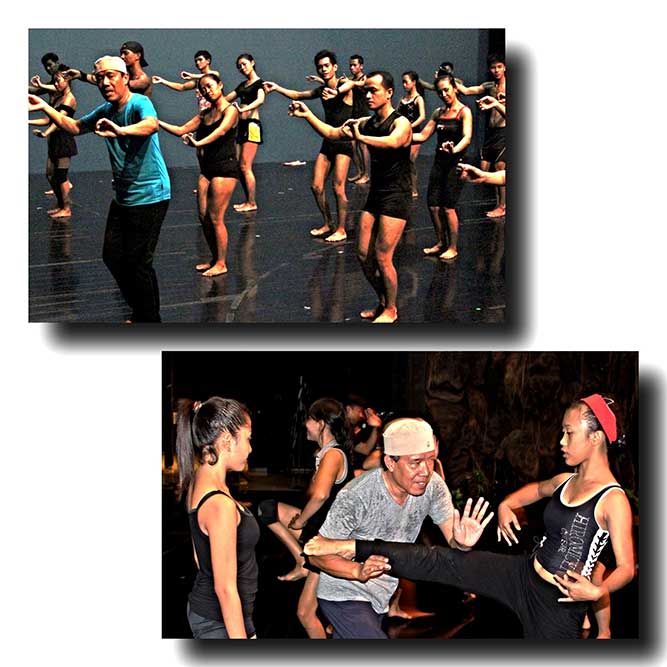 Tom Ibnur took his time to get to know the usual performance of the dancers. After watching Devdan Show, the lecturer of Jakarta Art Institute was impressed. "Devdan is an amazing performance! I'm very glad to know that there are people who really love Indonesian culture," he explained. The show has been supporting Indonesia to promote its culture to International audience for three years. "Amazing that Devdan team can really wrap everything nicely." He continued.
The 62 years old man lecturer trained the dancers for four days. During the workshop, Ibnur was convinced that the dancers were really doing their passion. "Doing the dances everyday for both rehearsal and performance is not an easy task," Ibnur said. He did not hear any single complain from the smiling faces.
"Devdan performance shows Indonesian culture in a beautiful way. The team should be proud of it." Ibnur concluded. The result of workshop was implemented into the presentation.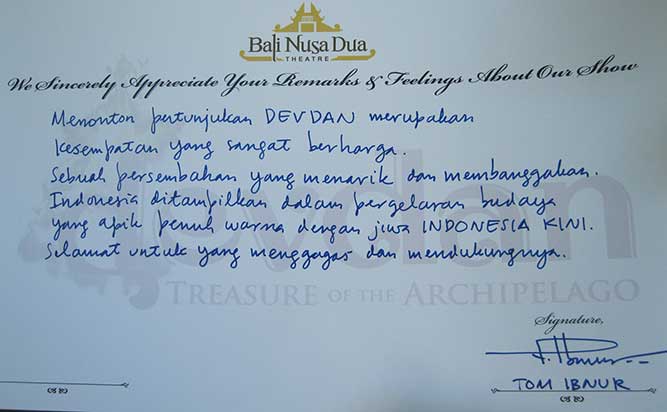 "Watching Devdan show is a very valuable opportunity. This show is a proudly interesting show. Indonesia culture is shown beautifully, colorful with current soul of Indonesia. Big congratulations for the one who created and supported Devdan Show."what he said about DevdanShow. The dancers of Bali Nusa Dua Theatre had a great time with Tom Ibnur in teach them new dance or movement which will be applied on their performance. Bali Nusa Dua Theatre is proud to know such a humble and talented person like him.