« Back to News
Alexandra Baackes Wandered to Devdan Show
15 May 2013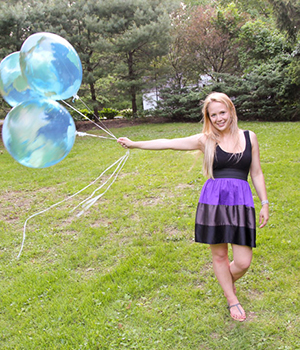 Alexandra Baackes, a New York travel writer who devoted her life for wandering around the world finally stepped on her new journey to Bali and made her way to watch Devdan show on Wednesday, May 15, 2013.
Came along with her partner who also her scuba diving instructor, Alexandra told us how she loves Bali and it's natural Beauty; especially the beautiful beaches. She just arrived in Bali 2 days ago so she hasn't seen many things Bali can offer to satisfy her hunger of adventure. That's why she was so excited when she came to Bali Nusa Dua Theatre and found out that Devdan is a show to showcase the beauty of Indonesian culture which she sure never knew before.
We had a short chat after the performance to catch her impression towards the show and we could see that she had that smiling face, expresing her satisfaction. She said it was wonderful and her favorite scene was Saman Dance and the duo strap performance. She loves it how the dancers can accurately performed the rhythm in Saman dance and the costumes made it look more beautiful.
For a full review about her experience at devdan show in Bali Nusa Dua Theatre, check out her blog at Alex in Wanderland