« Back to News
BBTF 2014 Entertains International Guests with Devdan Show
Thursday, 19 June 2014
The very first Bali and Beyond Travel Fair 2014 (BBTF) was held on 10th – 14thJune, 2014. During the most comprehensive travel fair in Asia, the committee of the event appointed Bali Nusa Dua Theatre (BNDT), to introduce the buyers to Indonesia's culture through its well-known Devdan Show. Around 300 guests from all over the world watched the cultural extravaganza on 12th June.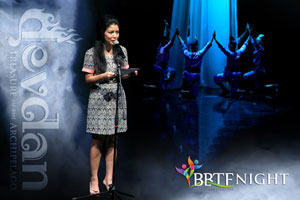 "Devdan has been a part of the colorful tourism industry in Bali, and generally Indonesia, since 2011,"Handari Himawan, the General Manager of BNDT welcomed the invitees. "We're still a baby, we keep striving non-stop to develop our product to promote the beautiful nation, hand in hand with all of you and other parties in the industry, which are as important," she continued.
The contemporary acrobatic and dance show, which is inspired by traditional culture of the archipelago.Devdan show creatively customized to be enjoyable for audience at any age. The performers present dances from some parts of Indonesia, including Bali, Sumatera, Java, Kalimantan and Papua. The educative extravaganza offers countless stage effects such as torrential rain pours, flame bursts as well as different types of aerial ballet. A state-of-the-art lighting system with 40 moving lights are installed in the theatre, a 90,000 liter pool, and a turntable center stage with 16 rotations per minute. The three-year-old theatrical performance is considered as one of the most popular Bali attractions.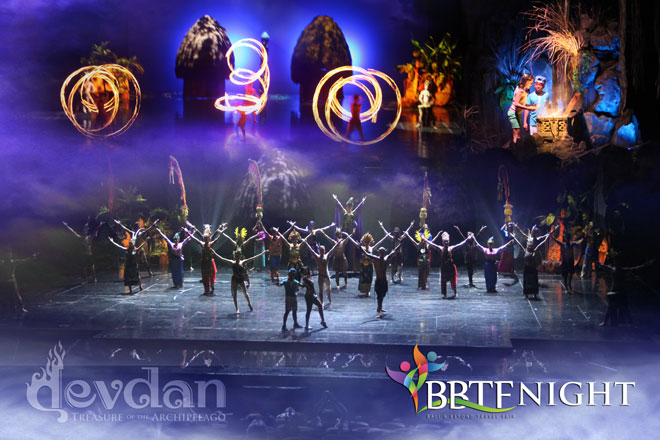 "We love to see, enjoy, and learn any cultural aspects of Indonesia, and Devdan show is our attempt to also be a part of the country's tourism development. We hope with this small step we would be able to take Indonesia's culture into international limelight," said Handari.
Attended by Ketut Ardana the chief of BBTF committee, as well as a representative of Bali Tourism Development Corporation's board of directors, the event was continued with a dinner at the theatre, hosted by Grand Mirage Resort, serving authentic Indonesian food. During the dinner, every guest had a rare opportunity to pose with all the performers for a picture at photo booths provided by BNDT.
Considering the educational and cultural aspects of the show, the committee plans to list Devdan Show as its official performance for the event. The BBTF, which is supported by Indonesia's Ministry of Tourism and Creative Economy, is expected to be an annual exhibition.