« Back to News
Bali Nusa Dua Theatre Granted Bali Leading Tourism Show Awards
Bali, May 2019
Indonesia Travel Tourism Awards (ITTA) again held a prestigious event to award Bali Tourism Awards (BTA) 2019/2020 which entered the fifth year. The event was held on Monday (27/5) at The Trans Resort Hotel Bali.
ITTA President, Benny Nainggolan said, "This award was held to develop and increase the service and quality of tourism industry". This award provided 33 categories and 15 top hospitality leaders. ITTA assessment Process involved online public voting, continued by the review from Binus Business School and approved by Advisory Board.
"We proud to be a winner, by this award we have a bigger responsibility to bring the message of our vision and mission, to introduce Indonesian culture to the world," said Jepri Liu General Manager Bali Nusa Dua Theatre. This award is a prize for Bali Nusa Dua Theatre hard work and its commitment to perform Devdan Show in full 90 minutes, which bring the audience to see Indonesia cultures in different ways.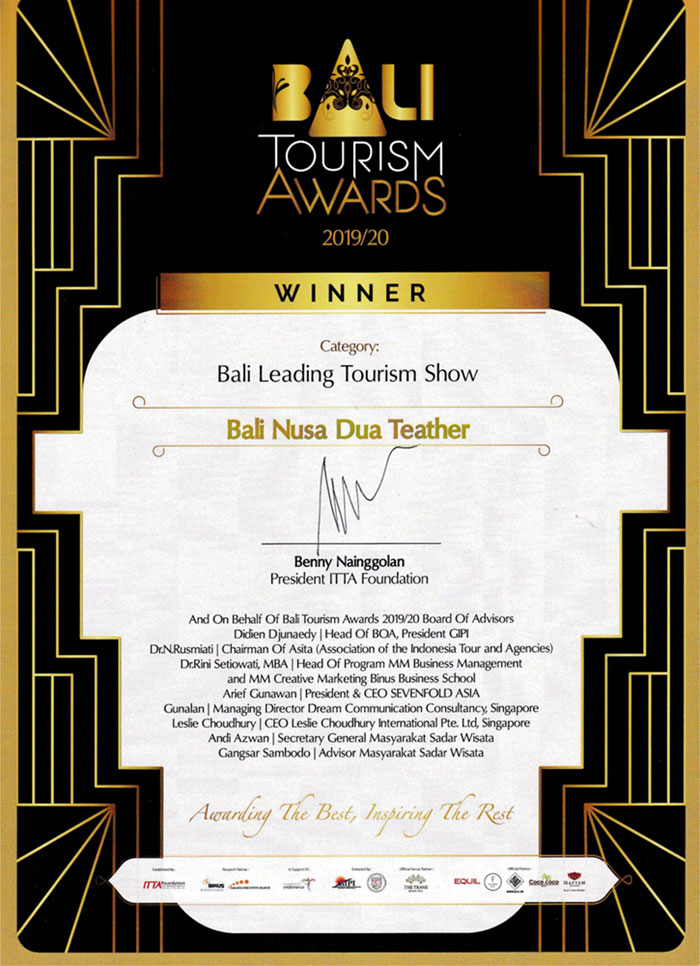 ***
About Devdan Show at Bali Nusa Dua Theatre
Devdan Show at Bali Nusa Dua Theatre is conveniently located in the hearty of Nusa Dua or well known as a Complex Indonesia Tourism Development Corporation (ITDC), 20 minutes from Bali International Airport.
Offers stunning show about Indonesian Archipelago, will takes you to easternmost to westernmost of Indonesia. Featuring myriads of Indonesia dances, music and beautiful costume and surely will pamper your eyes and ears, not to mention adding more in-depth knowledge about Indonesian
More information, visit www.devdanshow.com