« Back to News
BTA nominates Devdan as Bali Leading Tourism Show
Friday, 10 July 2015,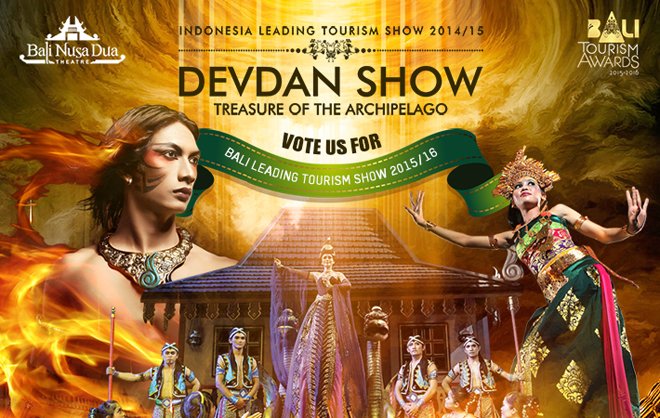 Bali Tourism Awards (BTA) recently announced the nominees of Bali Tourism Awards 2015-2016. Divided into 40 categories, the prestigious foundation nominated over 150 institutions in travel and tourism industry on the island. Devdan Show secured a nomination of Bali Leading Tourism Show.
"We are excited to be one of the nominees," HandariHimawan, the General Manager of Bali Nusa Dua Theatre expressed her gladness. "We're confident enough to be the winner of the awards, we always strive to be better." She continued.
Bali Nusa Dua Theatre (BNDT), centrally located in Bali's most well-known tourist enclave of Nusa Dua is an ideal place to host corporate or personal events. BNDT's very own theatrical performance, Dedvan Show is on a regular- 4 times in a week- schedule. The Indonesian culture inspired show presents dances from some parts of Indonesia, including Bali, Sumatera, Java, Kalimantan and Papua. The educative extravaganza shows countless stage effects such as torrential rain pours, flame bursts as well as different types of aerial ballet.
The theatre is equipped with a state-of-the-art lighting system with 40 moving lights are installed in the theatre, a 90,000 liter pool, and a turntable center stage capable of turning 360 degrees with 16 rotations per minute. The air-conditioned theatre accommodates 645 seats. The backstage team is accustomed to any size of events with various requirements.
Starting on July 1st, the voting of Bali Tourism Awards will be ended on July 12th, on BTA's official Facebook Page. The winners of each category will be announced on the awards night, which is scheduled on 26th August.
"We hope, being nominated as one of the best tourist attractions in Bali, we will gain wider exposure, so that we'll be able to introduce Indonesia's best traditional dances even further, regionally and internationally." Handari said. The show continues to get recognitions from award bodies as well as the media.