« Back to News
1000th Show of Devdan Has Gained Enormous Appreciation
Saturday, 16 April 2016,
(Nusa Dua, 8 April 2016)- Bali Nusa Dua Theatre has held Devdan 1000th show on 8 April 2016. The event was open for public and has been attended by 700 spectators including government, media, and art aficionado.
The series of events started at 17:00 with Meet and Greet inviting Handari Himawan as the General Manager of Bali Nusa Dua Theatre, Ralf Luthe as the Corporate Director of Sales & Marketing of Samabe Leisure Group, Sandra Dewi as a special guest star, and the creators Hengky Hartadi, Jeff Hall, and Axel Morgenthaler to the panel table. Attended by media, this the Meet & Greet aims to provide complete information about the first show of Devdan as well as its history and its journey to 1000th show to the press.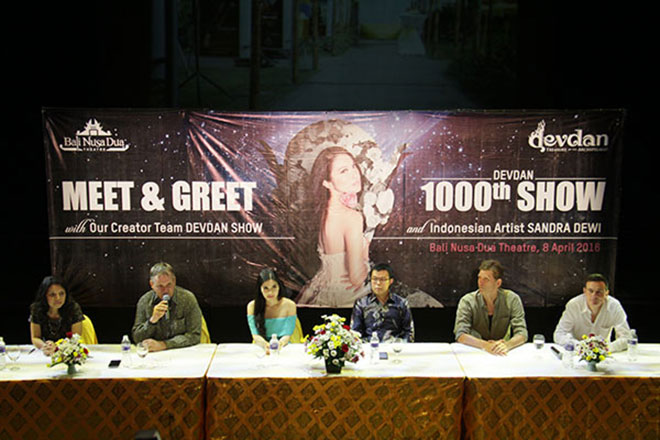 The event is followed by backstage tour guided by the Stage Manager Heri Sudarmanto to know deeper about the properties and equipments used for the show. This trip is marked as the first time of Devdan team's revealing the secret to its business partners and media. The light dinner is prepared afterwards. Presented by Grand Mirage Resort & Thalasso Bali, the dinner serves Indonesian food aligning with Devdan Show that highlights the culture of this archipelago. As a symbol of its anniversary celebration, the board of directors and local governments come to the stage and cut tumpeng, a cone of yellow rice that is popular among Indonesian people as a celebration symbol.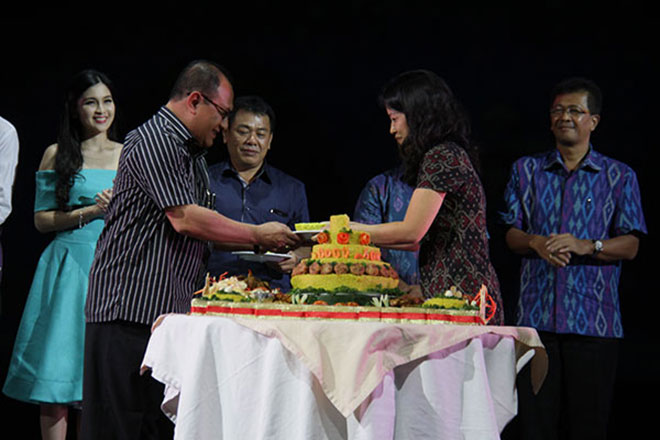 "I was so proud and happy to be part of the show tonight, it was an honor for me", said Sandra Dewi. The performance gained big applause from the audience, and some of them stayed in the theatre after it ended to take pictures with the dancers, crews, and guest stars. "We are surprised with the enormous appreciation from the audience. The event went beyond our expectations" uttered Handari Himawan, the General Manager of Bali Nusa Dua Theatre.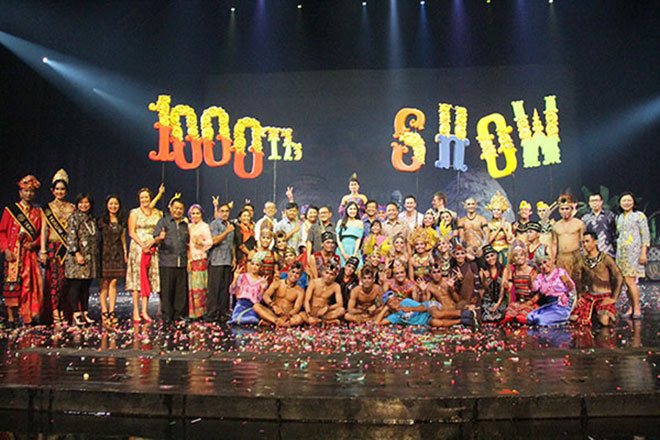 ***
Devdan Show is a 90-minute performance showcasing the culture of Indonesia through the combination of traditional, aerial, and contemporary dances. The story starts with 2 kids finding five cultural things from five big islands in Indonesia: songket from Sumatera, keris from Java, udeng from Bali, horn from Kalimantan, and koteka Papua. More information, visit www.devdanshow.com