« Back to News
Explore the beauty of Indonesian culture through Devdan show on Ekspedisi Langit Nusantara
Wednesday, 18 May 2016
Telkomsel has actualized their support for the preservation of Indonesian culture and nature by presenting the explorer of the archipelago program, which is entitled "Ekspedisi Langit Nusantara" on May 14, 2016. The program is known by the name of Elang Nusa which shows the beauty of Indonesia as well, the result of the two drones cruising the archipelago, namely the Elang Barat and Elang Timur each of which will depart from Sabang and Merauke. Both of these drones have been in the air for 30 days since 14 April 2016 and the journey of those drones can be seen directly through the internet via Telkomsel website. At the end of their journey, both of the drones were landed at Lotus Pond Garuda Wisnu Kencana, as the location of the event.

As a final show and the closing of the program, Devdan show has been chosen to become a major event on the landing of Elang Nusa Telkomsel. "It is an honor for Devdan to be the top thematic campaign in launching of the largest mobile operator in Indonesia" said Handari Himawan, the General Manager of Bali Nusa Dua Theatre. To enliven the final of this event, Devdan resembles the new choreography for traditional dances of the five biggest islands in Indonesia which can make more entertaining and educating. The show was opened with a tambourine dance from Sumatra and closed with the fire dance. The event was started at 14:00 pm. It is open to public and free of charge for everyone.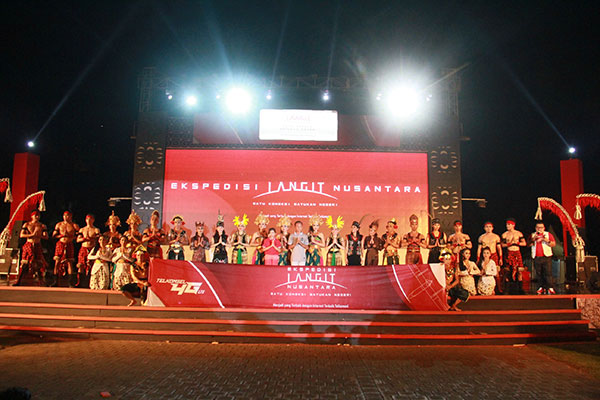 The Minister of Tourism Mr. Dr. Ir. Arief Yahya, M.Sc along with the Directors from PT.Telkomsel, present to open the event of the end of a long journey of both drones Elang Barat and Elang Timur. With more than 30 media attendants that covers the festivities of the peak of the event, also closed with the photo session of Devdan Dancers and all the VIP Guests.

The traditional Dance of Devdan show which performs the dance from five biggest island in Indonesia is performing in Bali Nusa Dua Theatre (BNDT) four times a week, which is more complex and compelling. Aerial acrobatics dance and the rain dance become the main attraction at this show. The performance itself is supported by the composition and the most sophisticated stage. Bali Nusa Dua Theatre has become the only grandest theatre which won the Indonesia Leading Tourism Show 2014/15.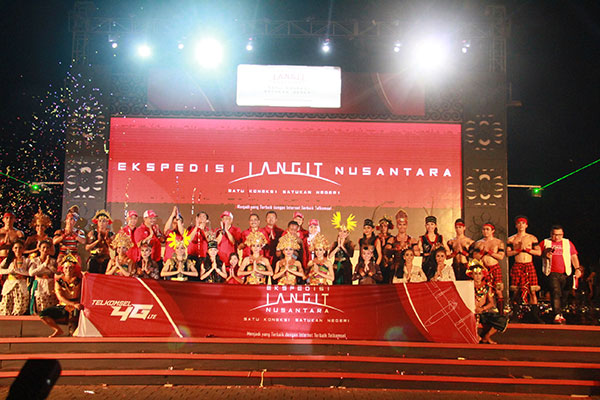 ***
Devdan Show is a 90-minute performance showcasing the culture of Indonesia through the combination of traditional, aerial, and contemporary dances. The story starts with 2 kids finding five cultural things from five big islands in Indonesia: songket from Sumatera, keris from Java, udeng from Bali, horn from Kalimantan, and koteka Papua. More information, visit www.devdanshow.com