« Back to News
Devdan Show Granted Indonesia Leading Tourism Show Award
Tuesday, 16 December 2014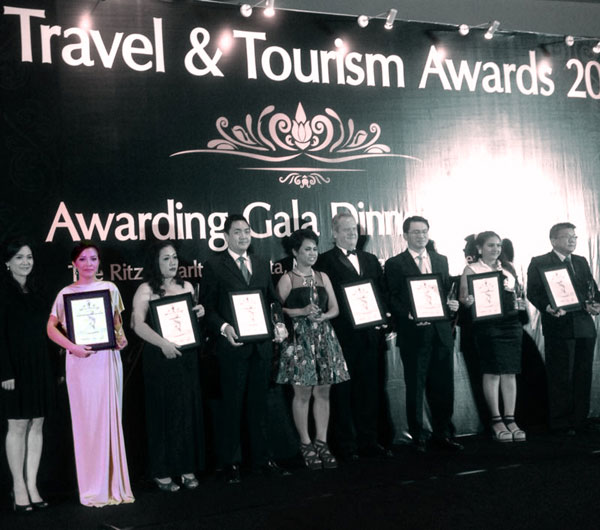 Indonesia Travel and Tourism Awards (ITTA) Foundation granted one of its prestigious awards Indonesia Leading Tourism Show 2014/2015 to Bali Nusa Dua Theatre's cultural performance, Devdan Show. The awarding gala dinner was held on 15th December, in The Ritz-Carlton Mega Kuningan Jakarta.
Given to hotels, resorts, and tourism related industries, winners are chosen in 55 categories from over 200 nominees. ITTA Foundation screened the institutions and announced for online public voting. The process continued to assessment by Binus Business School and judging by Board of Advisors. The awards serve to recognize, reward and celebrate excellence across all sectors of the Indonesia travel and tourism industry.
"We are proud to be the winner. It's a nice reward for our hard work and commitment in running the show," said Handari Himawan, the General Manager of Bali Nusa Dua Theatre.
The three-year old Devdan Show has been established in Nusa Dua, Bali, as a cultural stage extravaganzadepicting Indonesia's culture through dances inspired by traditional dances from all across the country. Managed by Bali Nusa Dua Theatre, Devdan is exhibited four times a week.
The theatre is equipped with a state-of-the-art lighting system with 40 moving lights are installed in the theatre, a 90,000 liter pool, and a turntable center stage capable of turning 360 degrees with 16 rotations per minute. The air-conditioned theatre accommodates 645 seats. The backstage team is accustomed to any size of events with various requirements.
"Every award for us has never been an end point, it is a start instead, for the next achievement. It is the proof that we have secured our existence in the middle of the hustle and bustle tourism industry in Indonesia, which means we have a bigger responsibility to carry the message of our vision and mission, to be one of Indonesia's vehicles in introducing the country's beautiful cultures to the world," Handari explained.