« Back to News
Devdan Show Performs at Hero Famous Brand 2014
Friday, 22 August 2014
One of Indonesia's biggest supermarket chains, Hero, conducted its annual event Hero Famous Brand, in Jakarta Convention Centre, 26th June 2014. The seventh awards night was dedicated to Hero Group's suppliers that have been involved in promoting their famous brands during the year, within the group's chain, Hero, Guardian, Starmart, Giant Extra and Giant Express. Selecting Indonesian culture as the theme of the event, the group chose Indonesia's most popular cultural performance, Devdan Show.
Devdan dancers presented modernized ballets inspired by Bali and East Java's traditional dances. They combined Janger, Fire Dance as well as the most popular piece in their theatre, duo aerial ballet. Being an establishment that has been a part of Bali's tourism industry and considered as one of the most popular attractions on the island, the team started the series of dances with a short procession of Balinese offering ceremony on the stage.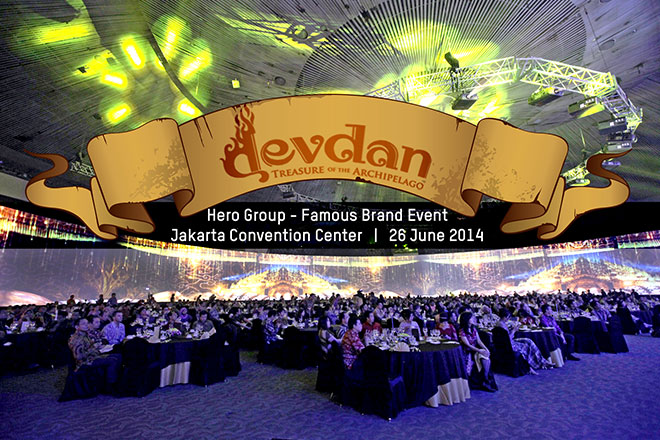 The stunning 360 degrees animated projection screen on the stage was a perfect complement to Devdan's performance. Not only the 660 attendees of the event, but the stage also drew the attention of Indonesia World Records Museum. It was the first installed in the country.
"We were glad to fly some of our team members to Jakarta, to be a part of the celebration," expressed Handari Himawan, the General Manager of Bali Nusa Dua Theatre, the operator of Devdan Show. "It was one of those good opportunities we got to promote Indonesia and its culture, not only to international audience, but also to our own people," she continued. Having more than 17,000 islands, the culturally rich archipelago nation is not really easy to get to know. Devdan Show is committed to its efforts on educating public about Indonesia, in a fun and easy way. It is creatively customized to be enjoyable for audience at any age.
In their theatre in Bali, the performers present dances from some parts of Indonesia, including Bali, Sumatera, Java, Kalimantan and Papua. It offers countless stage effects such as torrential rain pours, flame bursts as well as different types of aerial ballet.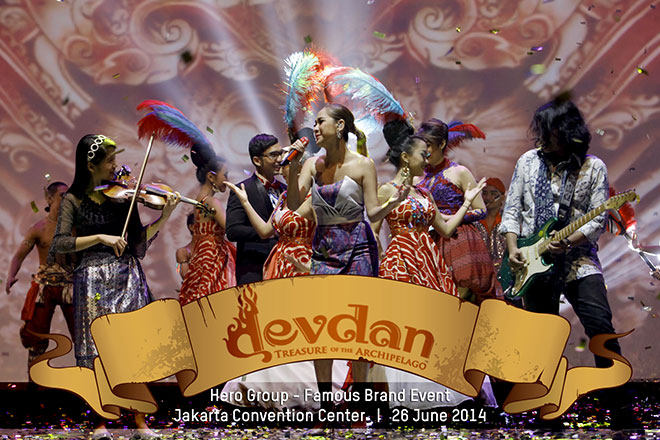 For further information, please contact:
Ingrid Astri
Sales Coordinator
prdevdan@balinusaduatheatre.com
www.devdanshow.com