« Back to News
Disney Tales Musical Show By Taman Rama School at Bali Nusa Dua Theatre
Bali, December 2018
The night of the musical performance by the Taman Rama School was the third time held at Bali Nusa Dua Theatre - Devdan Show. This event was held by two Taman Rama Schools in Bali, namely Taman Rama Jimbaran which held the show on Tuesday, December 4, 2018. Meanwhile, Taman Rama Ubung School chose to hold the show on Thursday, December 6, 2018.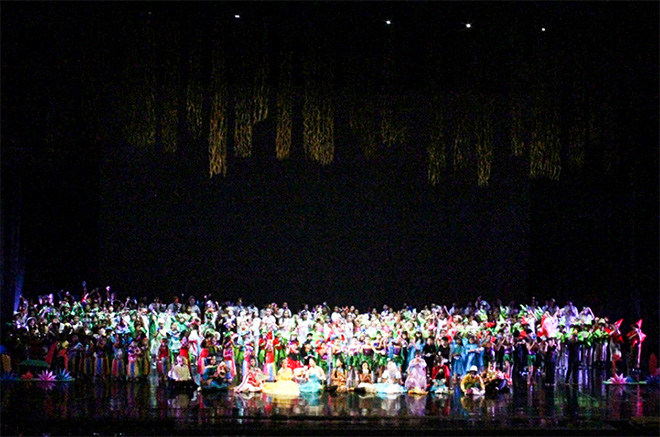 The event, which was attended by nearly 600 guardians, raised the "Disney Junior Musical Tales" theme which not only involved the students in the show, but also Taman Rama School teachers who took part in the selection of songs and choreography.
"By holding this show, we expect the children to be able to learn and have the ability to build confidence and we hope all the students of Taman Rama School can develop their talents and creativity in themselves", said Ms. Christine from Taman Rama School.
Bali Nusa Dua Theatre - Devdan Show was chosen as the venue for this event, because the building is able to accommodate up to 645 seats. Furthermore, Bali Nusa Theatre also has facilities with high-quality lighting, stage effects and decorations which makes it easier for performers and the audiences to feel comfortable.
"This is not the first time for Bali Nusa Dua Theatre - Devdan Show to lease buildings for people who want to hold performances or shows. These can be offices, schools or even families. With a large enough capacity, comfortable chairs, and all the bright lighting and decoration, it is no wonder that people are still considering the Bali Nusa Dua Theatre as their venue, "said Ms. Christine from Taman Rama.
***
About Devdan Show at Bali Nusa Dua Theatre
Devdan Show at Bali Nusa Dua Theatre is conveniently located in the hearty of Nusa Dua or well known as a Complex Indonesia Tourism Development Corporation (ITDC), 20 minutes from Bali International Airport.
Offers stunning show about Indonesian Archipelago, will takes you to easternmost to westernmost of Indonesia. Featuring myriads of Indonesia dances, music and beautiful costume and surely will pamper your eyes and ears, not to mention adding more in-depth knowledge about Indonesian
More information, visit www.devdanshow.com