« Back to News
Guruh Soekarno Putra Watches Devdan Show
Saturday, 23 August 2014
Guruh Soekarno Putra, the youngest son of the first president of Indonesia recently visited Bali Nusa Dua Theatre (BNDT) Nusa Dua, Bali. During his visit, Guruh watched Devdan Show, BNDT's cultural theatrical regular extravaganza.
Being a well known choreographer with many works successfully brought Indonesia into International fame of art industry, Guruh highly appreciates Devdan Show, "The show is impressive and entertaining," he said. He suggested to add even more Indonesia's traditional elements into the show.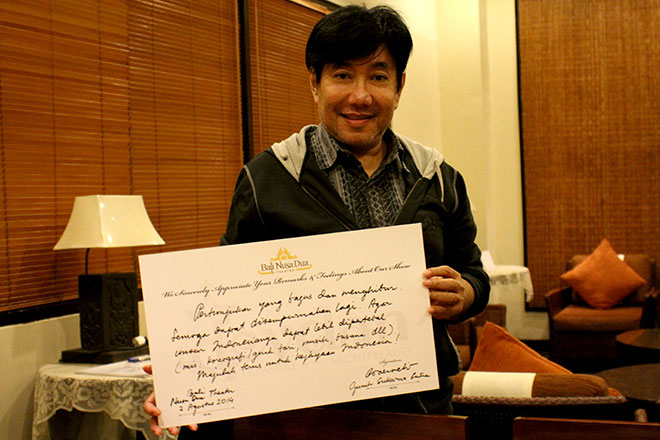 The founder of art community Gencar Semarak Perkasa commits to introduce the beauty of the archipelago nation, locally, as well as internationally. The multi-talented artist who is also a musician and a film industry practitioner has selected art as his way of life since he was five years old. The young Guruh started learning Indonesian traditional dances and formed a band with his friends.
During his career, he created some noticeable projects, such as Karya Cipta Guruh Soekarnoputra I show (1979), Karya Cipta Guruh Soekarnoputra II: Untukmu Indonesiaku show – as well as a semi-documentary version of it (1980), Karya Cipta Guruh Soekarnoputra III: Cinta Indonesia show, Jakarta Week show in Singapore (1984) and Karya Cipta Guruh Soekarnoputra IV: Gilang Indonesia Gemilang show (1986). Guruh also managed to roll colossal extravaganzas "JakJakJakJak Jakarta" for Jakarta's 462nd anniversary (1989) and Gempita Swara Mahardihika for Swara Mahardika's 10th anniversary (1987).
Guruh Sukarnoputra considers Devdan Show, which offers entertainment as well as cultural education to promote Indonesia's beauty to wider public, locally and internationally, as something to be developed further. "Do more for Indonesia," he said.