« Back to News
The Grand Final Night of Teruna - Teruni Bali 2016, in Bali Nusa Dua Theatre
28 September2016
As a form of appreciation for the preservation of Indonesian culture in general and Bali Culture in particular, Bali Nusa Dua Theatre which famous by its enormous performance, Devdan Show, have been selected as the location of the Grand Final Night of Teruni Teruna Bali 2016. The election Night of Bali Tourism Ambassador is routinely done every year since its inception in the year 2003. And on in this preferential year, Bali Nusa Dua Theatre got the opportunity to become one of the main sponsors of the annual event that is eagerly awaited by young men and women all over Bali.

Teruna - Teruni Bali is most wanted Bali Tourism Ambassador prospecting event and the only event that is recognized nationally by the Association of Indonesian Tourism Ambassador. The event was held in order to filter out and make young men and women of Bali as the forerunner of the Bali tourism as well as the main mission as an ambassador for the province of Bali travel to national and international arena. The juvenile enthusiasm is very high this year and certainly greater than in previous years. Various rounds of selection, Pre-quarantine, quarantine, Culture Night, Night Grand Final and the voting were done in order to choose the winners superior, talented and accomplished. Besides The Grand Final Night and Press Conference, The Pre Quarantine specifically the finalists photo sessions carrying the Kecak dance concept also done in Bali Nusa Dua Theatre.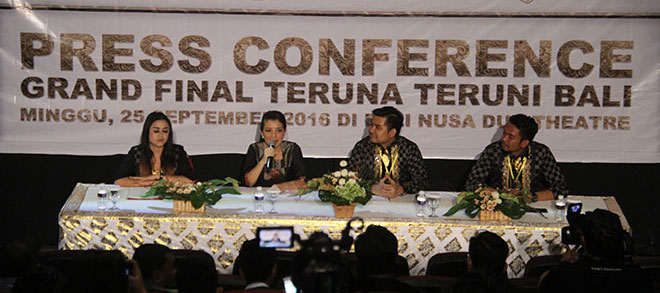 "The Cooperation between Teruna-Teruni Bali and Bali Nusa Dua Theatre, in my opinion, is the thing that should have been done long ago. This is particularly relevant to our backgrounds that were actually the same, Teruna Teruni Bali want to develop the culture through the best sons and daughters of Bali, together with Bali Nusa Dua Theatre who also want to develop a culture from all over Indonesia" According Handari Himawan, The General Manager of Bali Nusa Dua Theatre at the Press Conference on September 25, 2016. Dr. Shri I Gusti Ngurah Arya Wedakarna Mahendradatta Wedasteraputra Suyasa III ,SE(MTRU),M.Si as Senator DPD RI also attended the event of the Grand Final Night and gave a very warm welcome to all the invitations and spectators whom filled the seats Bali Nusa Dua Theatre that evening.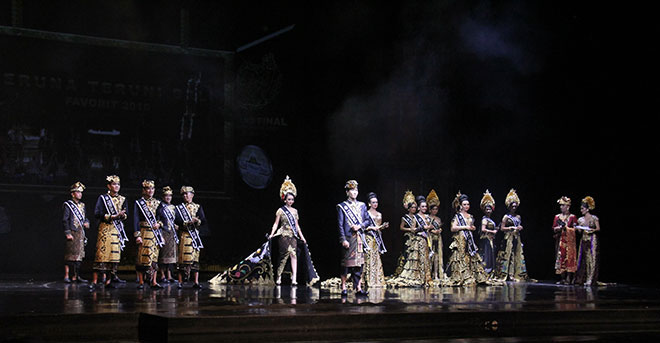 The Implementation of the Grand Final Night Teruna Teruni Bali was unbelievably spectacular. Mainly supported by a solid partnership with the Devdan Show team, Theater facilities which were highly magnificent, the sophisticated lighting and sound as well as the international standard stage, Bali Nusa Dua Theatre are always trying to provide the best for the event. On this very good opportunity, Bali Nusa Dua Bali Theatre also presents the Balinese scene by all the Devdan Show dancers and collaborated with the finalists Teruna Teruni Bali 2016.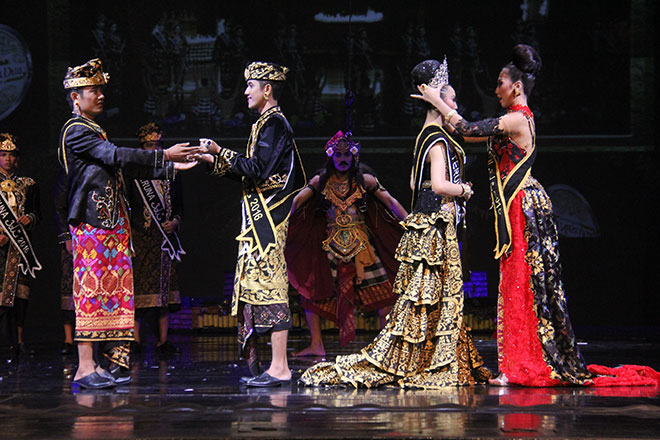 ***
Devdan Show is a 90-minute performance showcasing the culture of Indonesia through the combination of traditional, aerial, and contemporary dances. The story starts with 2 kids finding five cultural things from five big islands in Indonesia: songket from Sumatera, keris from Java, udeng from Bali, horn from Kalimantan, and koteka Papua. More information, visit www.devdanshow.com